Installation Guide
If you have any questions at all, please do not hesitate to call our team who can advise you on installation tricks and techniques, especially if you have very tough ground conditions.
Form a new edge, or re-cut the existing edge deeper to effectively make a trench for EverEdge.
Place EverEdge in position. Scraping the spikes from left to right in the soil helps to seat it well. Ensure EverEdge logo is facing the front and that the new piece being installed has the male section locking into the female not visa-versa.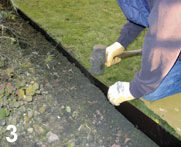 Using a rubber mallet or a hammer on a block of wood, drive the EverEdge into the ground until your edge is flush with the turf level.
Interlock the overlap as shown.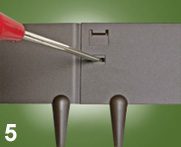 When all the EverEdge is installed press in the tongue using a screwdriver. Only push to about 45°.
Using either another piece of EverEdge or a length of timber EverEdge can be bent to the required angle before installing.
 Get In Touch


Phone
 087-2 56 56 80
353+1+247 88 51

Address
16, Priory Avenue,
Stillorgan,
Co. Dublin
A94 C589